~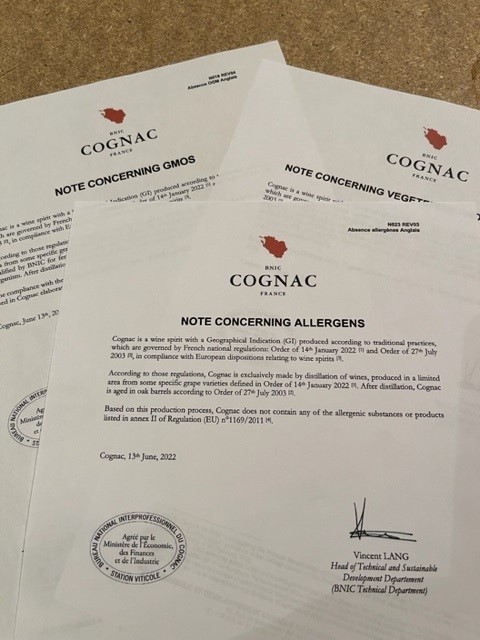 With the increased focus on the labelling of foodstuffs correctly, and in detail, we do get asked about the content of cognac, including allergens.  To ensure we have accurate information for our customers, we put the question to the BNIC (Bureau National Interprofessionel du Cognac), Cognac's governing body, and this is what they told us:
Cognac is made exclusively by the distillation of wines, produced in a limited area, from specific grape varieties. After distillation, Cognac is aged in oak barrels. Based on this production process, cognac does not contain any of the allergenic substances or products listed in European Regulations.
Subsequent to this process, certain additions are authorised – sugar, caramel, decoction of oak chips and water.  None of these are from animal origin therefore, cognac appears to be compatible with vegetarian or vegan diets.
Additionally, none of the yeast strains qualified by the BNIC for fermentation of the wines, intended for cognac production, are Genetically Modified Organisms (GMOs). Therefore cognac can be classified as GMO free.