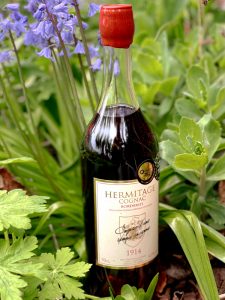 We were fascinated to read an interview with Bénédicte Hardy in 'Frenchly'.  Bénédicte is the fifth generation to be involved with the House of Hardy cognacs, although much of her time has been spent working in the US.
Entitled 'Cognac's return to Grace', she describes the rich history of cognac and how in recent years, cognac has evolved into a symbol of both 'rap stardom' and 'highbrow mixology'.  Here at Hermitage, it is that history that we aim to bottle and so a summary follows:
In the 17th century, it was English, Irish, and Dutch négociants who really put cognac on the map as they had realised what an amazing resource the river Charente was for shipping their products worldwide.  During the subsequent centuries, cognacs' fortunes hit highs and lows, but always survived.  The French Phylloxera crisis, for example, was eventually solved by turning to American root stock.  Even two World Wars did not ruin the industry.   During World War I, while men were conscripted, women were left to manage the vineyards and distillation by themselves.  The work of these women became so significant that eaux-de-vie produced in 1914 is now known as part of the Ladies Vintage.  And during World War II, while Nazi soldiers ransacked Champagne for all it was worth, a Cognac local, of German origin, Lieutenant Gustav Klaebisch, took it upon himself to protect the cognac cellars and vineyards from being pillaged.
Hermitage stocks cognac vintages harvested during both World Wars, but we are particularly proud of our Ladies Vintage, produced in 1914.  A Masters Award winner, unsurprisingly, only a few bottles remain.