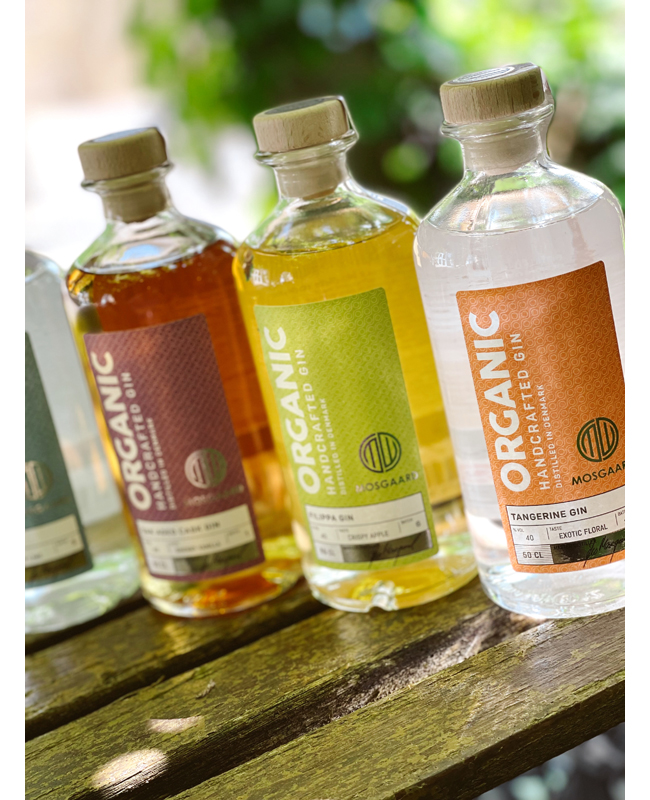 What a great excuse to enjoy all your favourite gins …… World Gin Day on Saturday 10th June 2023! This annual event celebrates all things juniper including our delicious organic gins from Denmark. They are made by Mosgaard, who have a modern interpretation of traditional gin with sweetness, softness, and lots of fruity notes. Their gin is distilled on a hybrid steam infusion kettle with a mix of organic juniper, botanicals and fresh citrus fruits. Take a look at the range of flavours:
Mosgaard Organic Dry Gin is a lime fresh gin with spicy sweetness and a long citrus after taste. Makes a great gin and tonic with a garnish of fresh mint leaves, fresh basil, lemon verbena or lime or try it over ice with freshly squeezed lime juice.
Mosgaard Organic Tangerine Gin is sweet and floral and made from fresh tangerines. A perfect gin for cocktails adding a little acidity and apple-like sharpness or with tonic over plenty of ice.
Mosgaard Organic Crispy Apple Gin is made from Filippa apples which are spicy, sweet and have a fresh acidity after harvest. It can be enjoyed over ice or with elderflower tonic and a garnish of fresh apple or thyme.
Mosgaard Organic Oak Cask Aged Gin has been aged in old bourbon and Pedro Ximenez sherry casks for 8-9 months. The whisky and sherry casks add sweetness, vanilla and caramel notes to the citrus and juniper flavours. Enjoy neat with a cup of coffee, spice it up with Ginger Ale and orange zest or use it in a dry martini.