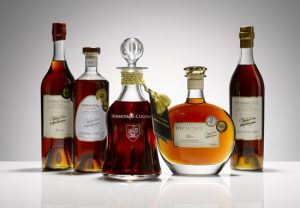 We love to celebrate National Cognac Day!  This year it's on Sunday 4th June so if you have a bottle you keep for special occasions or fancy trying something new for the first time, this is time to do it!
Cognac, which originates from a town of the same name in France, is a type of brandy, the generic name for spirits that have been made from fruit.  It begins life as a white wine, that has been produced in one of six designated growing regions, and is then distilled in an alembic still and aged in oak casks for years.
Cognac's production is a science and indeed an art.  If the drink is new to you, here are some handy links to find out more about it:
The other very important factor you need to know is that most cognacs are blended.  This is essential to produce large quantities of a product, that always tastes the same.
But, here at Hermitage we do it differently.  Our cognacs are not blended, they come from Single Estates and each one has unique and identifiable flavours.  So, if you really want to try something new, Hermitage is the place to go.  Each bottle will tell you how many years the cognac has been in the barrel and if it's a vintage, the year the grapes were harvested.  Enjoy!!