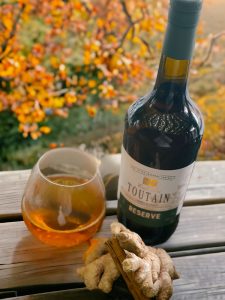 This is apple harvest time and Friday 20th October is World Calvados Day. To celebrate we thought you might like to try something new.
Apple Calvados is a lovely, warming drink to enjoy on an autumnal evening:
Place a piece of root ginger and a cinnamon stick in a pan over a low heat. Pour in 50ml of Toutain Reserve 3yo Calvados and 150ml of fresh apple juice. Stirring constantly, heat the cocktail but do not let it boil. As soon as it warms up to 70/80 degrees C, pour it into a glass and serve.
And if calvados is not your spirit of choice, then how about some apple gin? Produced in Denmark, our organic Mosgaard Filippa Gin is made from spicy, sweet Filippa apples that have a fresh acidity after harvest. These fresh apples are macerated in the distilled spirit giving a velvet smooth and fresh apple flavoured gin. Try it with tonic because Thursday 19th October is International Gin & Tonic Day!