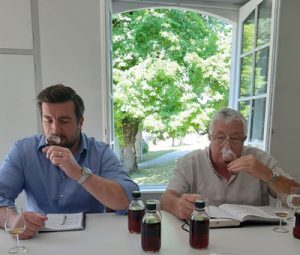 Richard Woodward writing in The Drinks Business last week, about Boutique Cognac Houses, names Hermitage Cognac as an independent bottler focused on the highest quality:
"Cognac has close to 80,000 hectares of vineyard … cultivated by some 4,000 growers …  . Twenty years ago, there were 8,000 vignerons in Cognac, illustrating a growing professionalism as small landowners exit the industry.
That picture of consolidation extends to brand owners, with Cognac's "big four" – Hennessy, Martell, Rémy Martin and Courvoisier – accounting for more than 80% of global consumption. That leaves little space for smaller operations, but a number of boutique houses still carve out a niche for themselves, pitching their artisanal credentials against the might of that dominant quartet.
Most growers sell the vast majority of their production to big houses, but many still bottle their own Cognac as well. The best of these are the hidden gems of the region – growers such as Château Montifaud, Jean Fillioux and Michel Forgeron, or David Baker's Hermitage Cognacs – an independent bottler focused on the highest quality."
Read the complete article here.