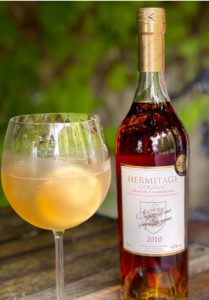 Gin & Tonic has been around since the days of The Raj and nowadays is often drunk as a precursor to dinner.  But tonic goes well with a number of spirits so this summer is a good time to try something different.  How about a simple cognac & tonic?  It is such a delicious, refreshing libation to enjoy.
~
Cognac & Tonic
Mix three parts tonic water with one part cognac. Serve over ice in a red wine glass with a slice of lemon.
~
And if that is to your liking, you can always replace the cognac with calvados to make Calvados & Tonic.
This month we have three spirits on offer and all can be enjoyed with tonic and a slice of lemon.
Hermitage 2010 Grande Champagne Cognac