Provenance
There are hundreds of small cognac houses, most sell their young brandies to the big houses, but a few keep their special treasures tucked away for those who appreciate the golden nectar.
Hermitage Cognac Limited has, for decades, sourced cognacs from the very finest producers in the Premier Cru of cognac, known as Grande Champagne.  Perhaps because of our exposure to many small family creators of fine brandies, we occasionally find cognacs hidden away in family cellars, often referred to as 'Paradis'.   These innermost chambers house small batches of cognac in glass bonbonnes and sometimes contain cognacs that were made more than one hundred years ago.  These cognacs may have lived in their barrels for decades, and some, because of how they were made and aged, will be the perfect nectars that we are proud to call Hermitage.
Old cognacs are rare, and cognacs made before 1900 are exceptionally rare.  Cognacs are produced in France.  Nowhere else in the world is allowed to call their brandy 'cognac'. The available quantity of cognac made before 1900 is miniscule and consequently, the value of these old vintages is increasing. We do not know how many more old and desirable cognacs we will find. But what we do know is that when they are all sold, the value of those still in circulation will rise alarmingly.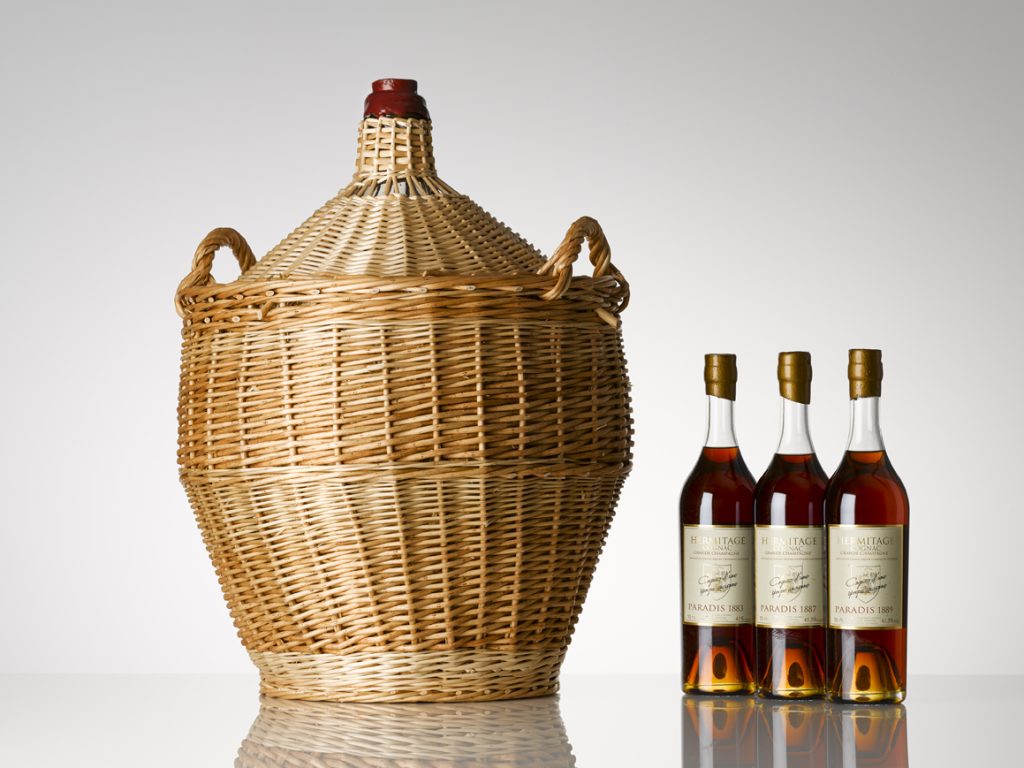 Vintage Cognac Values
During the 1990s individual bottles of vintage cognac, from as early as 1790, were available in the marketplace for between £1500 to £2000.  Cognacs from 1800 – 1860 could be purchased for between £1200 – £1700.
By 2015, very early bottles from before 1800, were being sold for £27,000 and cognacs from 1800 to 1860 for £12,000 to £19,000.
Within the last 5 years, two imperial three quarter gallon bottles of Massougnes, which in 2000 sold for £7000, sold in London for £246,000 each.
The acceleration of cognac values since 2015 leaves us in little doubt that by the end of the decade, prices will have doubled again.
Our Offering
In addition to purchasing our Hermitage Pre 1900 Cognacs in bottles, we also offer the range in glass bonbonnes.  Each vintage can be purchased in either 10 litre or 30 litre bonbonnes.