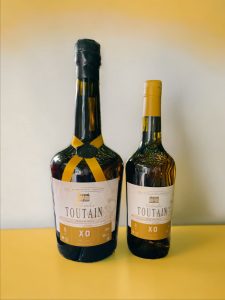 We have a very special treat for the calvados lover ….. a magnum of 8 Year Old from the top cru. Calvados is usually sold in 70 cl bottles but this one is 150 cl and perfect for a gathering or celebration. This Toutain magnum of calvados comes in a traditionally shaped bottle and really does look the part. It would certainly be a talking point for its rarity, presence and wonderful flavour.
The Toutain family has been developing calvados in Normandy for 5 generations, while respecting family customs and ancestral traditions that give big names to small houses. It has been located at the Domaine de la Couterie since 1971, which is located at the gateway to the Pays d'Auge from Paris, in the small town of Beuzeville. The family business was created more than 95 years ago and today extends over an estate of 25 hectares of traditional 'high-stem' plants. These orchards consist of 35 varieties of cider apples, spread over two farms, both located in the AOC Calvados Pays d'Auge Geographical Area. Almost all of their calvados is distilled on a column type alembic still because this technique gives a more fruity flavour, which deepens with age.
This XO calvados has been aged for at least 8 years, initially in 30 – 40 hl oak barrels but subsequently in smaller, 15 – 20 hl ones. It has a wonderful appley flavour and can be drunk as an aperitif (straight on ice or in a cocktail) or as a digestif served at room temperature to allow enough time to air.