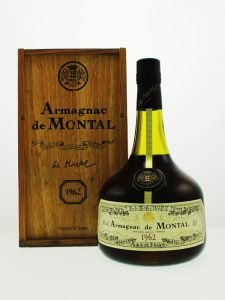 A one off addition to our Montal range has just arrived; the Montal 1962 Bas Armagnac. The grapes for this armagnac were harvested in 1962. What a wonderful year of birth, but then we are rather biased at Brandyclassics Headquarters! It is rare to find these old bottles of Montal Armagnac so this is another gem. It comes from the top cru, is presented in a very attractive bottle and has fruity flavours with toffee and coffee on the tail.
So, what else happened in 1962?
It certainly found its place in history as the start of the Cuban Missile Crisis but many other events occurred also. In the US / Russian space race, John Glenn became the first American to orbit the Earth, aboard Friendship 7 and a UK / US team won the Nobel Prize for Medicine for their work in determining the structure of DNA. There were lots of firsts in the music world too; the Beatles signed their first contract and released their first single 'Love Me Do' and The Rolling Stones gave their first performance at the Marquee Club in London. The first James Bond film 'Dr No' premiered in London and on the golf course, Jack Nicholas won his first major after a play off with Arnold Palmer. It really was an exciting year to be born, and those who were, share their birth year with Tom Cruise.
If you are thinking of buying a vintage from 1962, take a look at our other offerings: